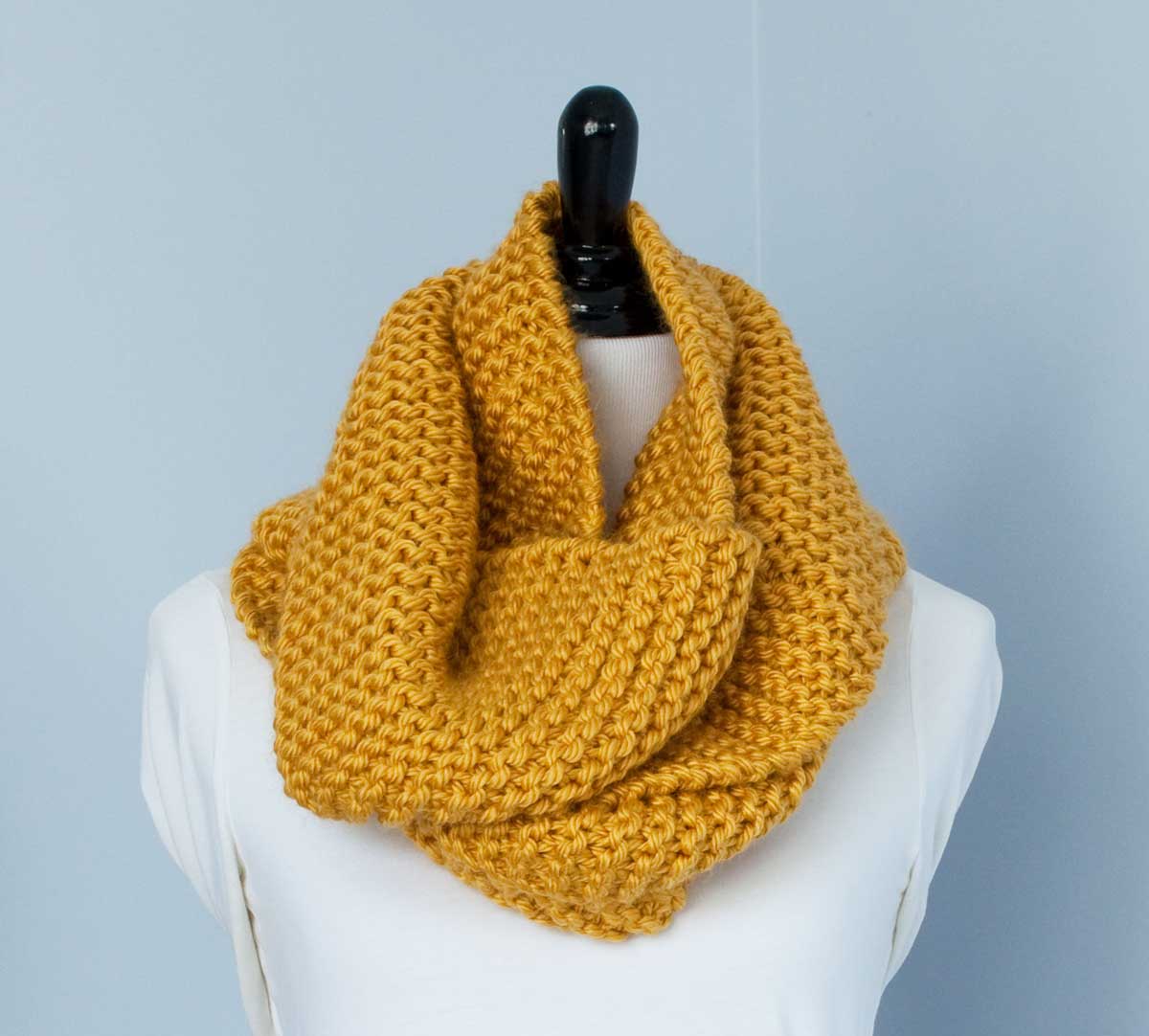 The weather here in northern Illinois has been a bit wonky these past few weeks. One week it's unseasonably warm and everyone is out wearing shorts, then the next it's cold and extremely windy. This week we've been blessed with a mix of both, starting out wet, cold, and crazy windy, then changing into warmer, but still super windy days.
Despite the back and forth in temps, one thing is certain though, my favorite time of year is coming to an end and the colder days will be here to stay soon. And colder weather means all of those warm and squishy cowls and scarves get brought back out of their summer resting place, to be worn and loved.
Since I never know what the weather will be like from one day to the next here in November, I like to keep a good selection of scarves and cowls on hand in various degrees of coverage and warmth. One of my favorite cold-weather scarves is this Kronenburg infinity scarf.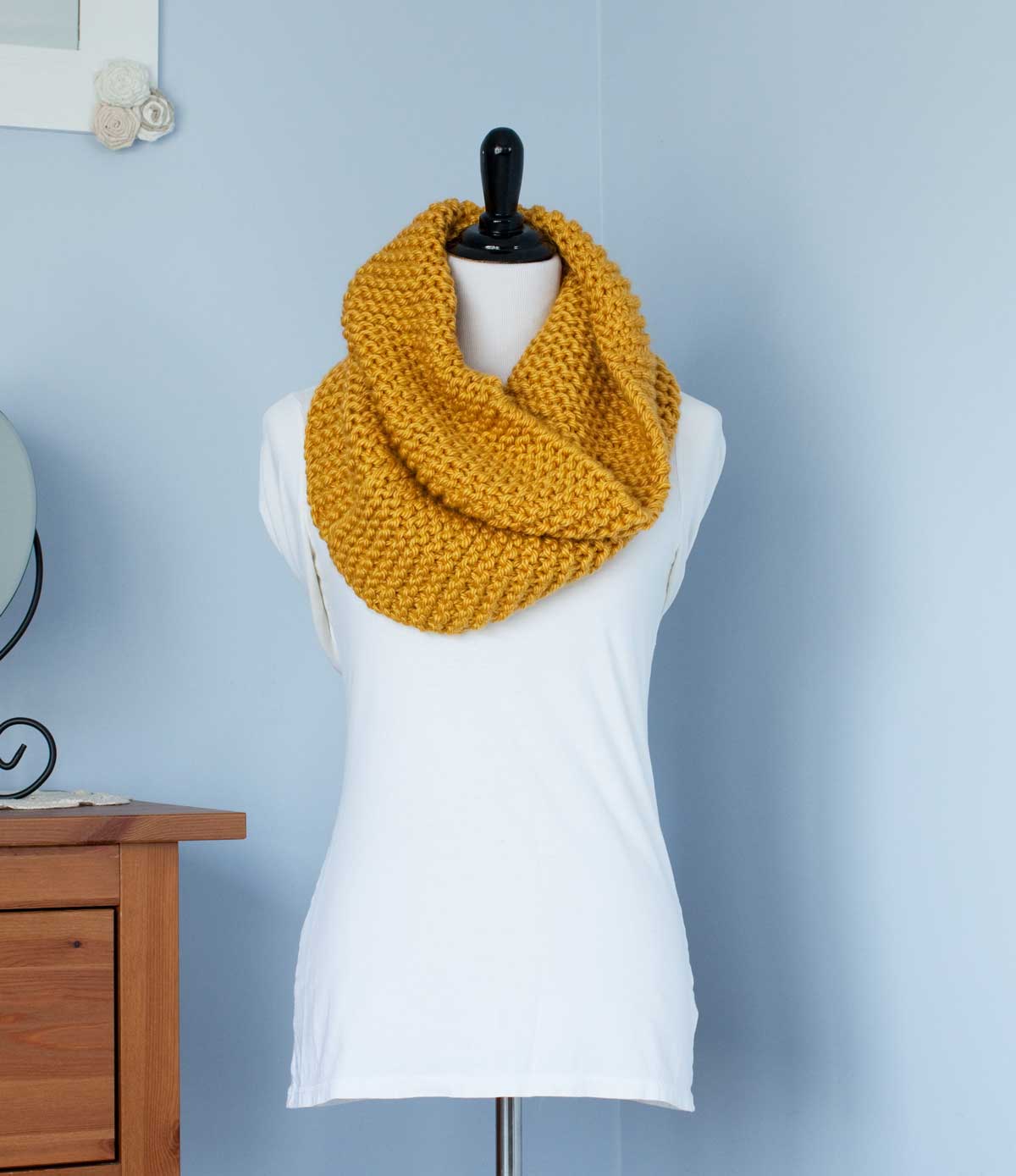 Knit in garter stitch, using a super bulky yarn and large knitting needles, this is the perfect beginner cowl for anyone whether you're just learning to knit or an experienced knitter looking for an easy, uncomplicated project to work on.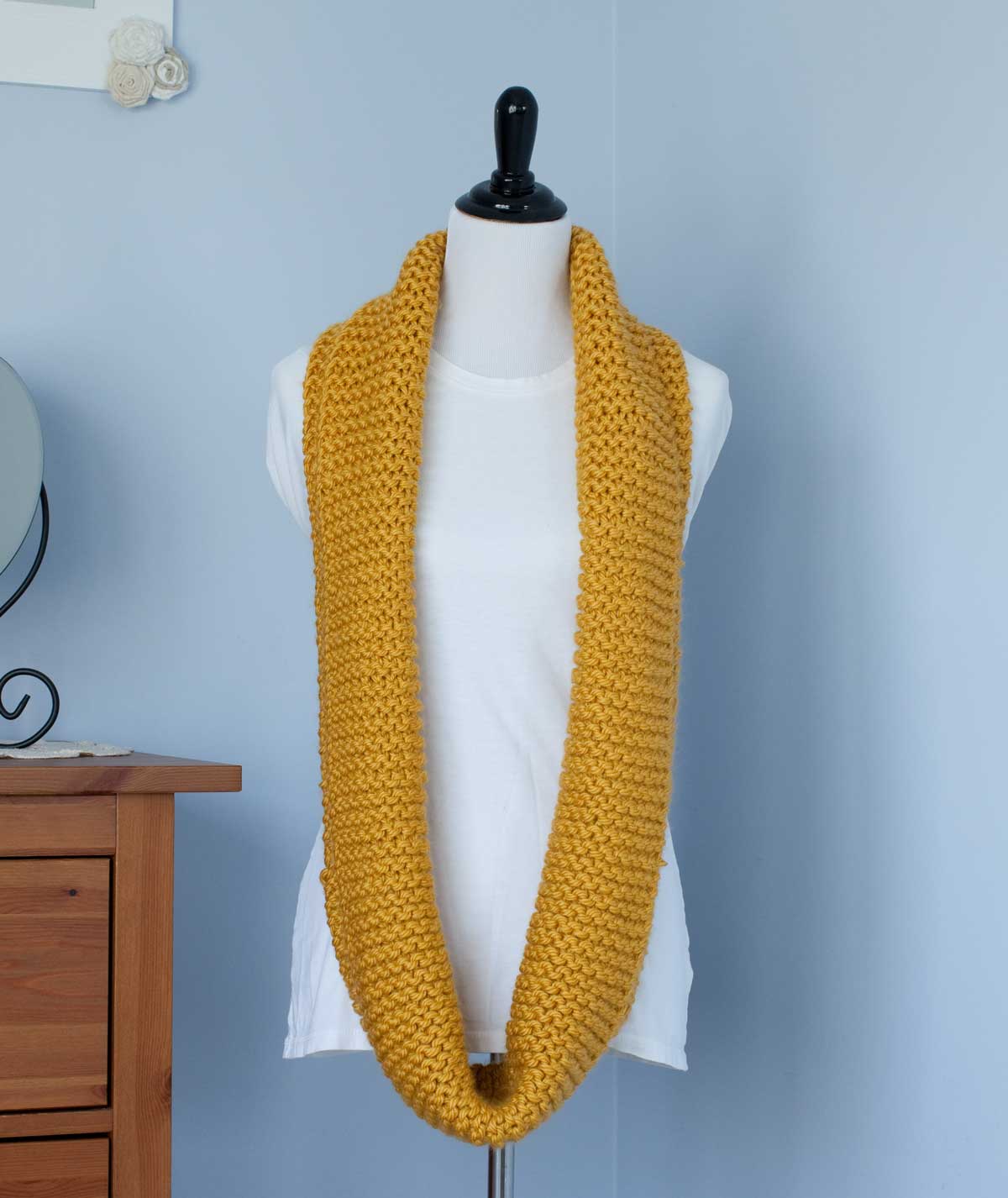 The Kronenburg Infinity Scarf
Materials
Lion Brand Hometown USA (3 skeins) – I used Madison Mustard
Knitting Needles US size 15 (10 mm)
Large eye tapestry needle
Pattern Instructions
Cast on 20 stitches with size 15 knitting needles
Knit every row (this is called a garter stitch) until the scarf is about 60 inches long
Bind off
Using the tapestry needle, seam the first and last rows together to create an infinity scarf or leave as is for a straight scarf
Weave in all ends and enjoy your new scarf!
Measurements
Since it's a scarf, measurements don't need to be exact. Everyone knits in their own way… some looser, some tighter… once finished, your scarf will be uniquely yours. If you'd like to make it similar to mine, here are the measurements of my finished scarf –
Width approx 9.5″ and length approx 60″ before sewn, 30″ after sewing ends together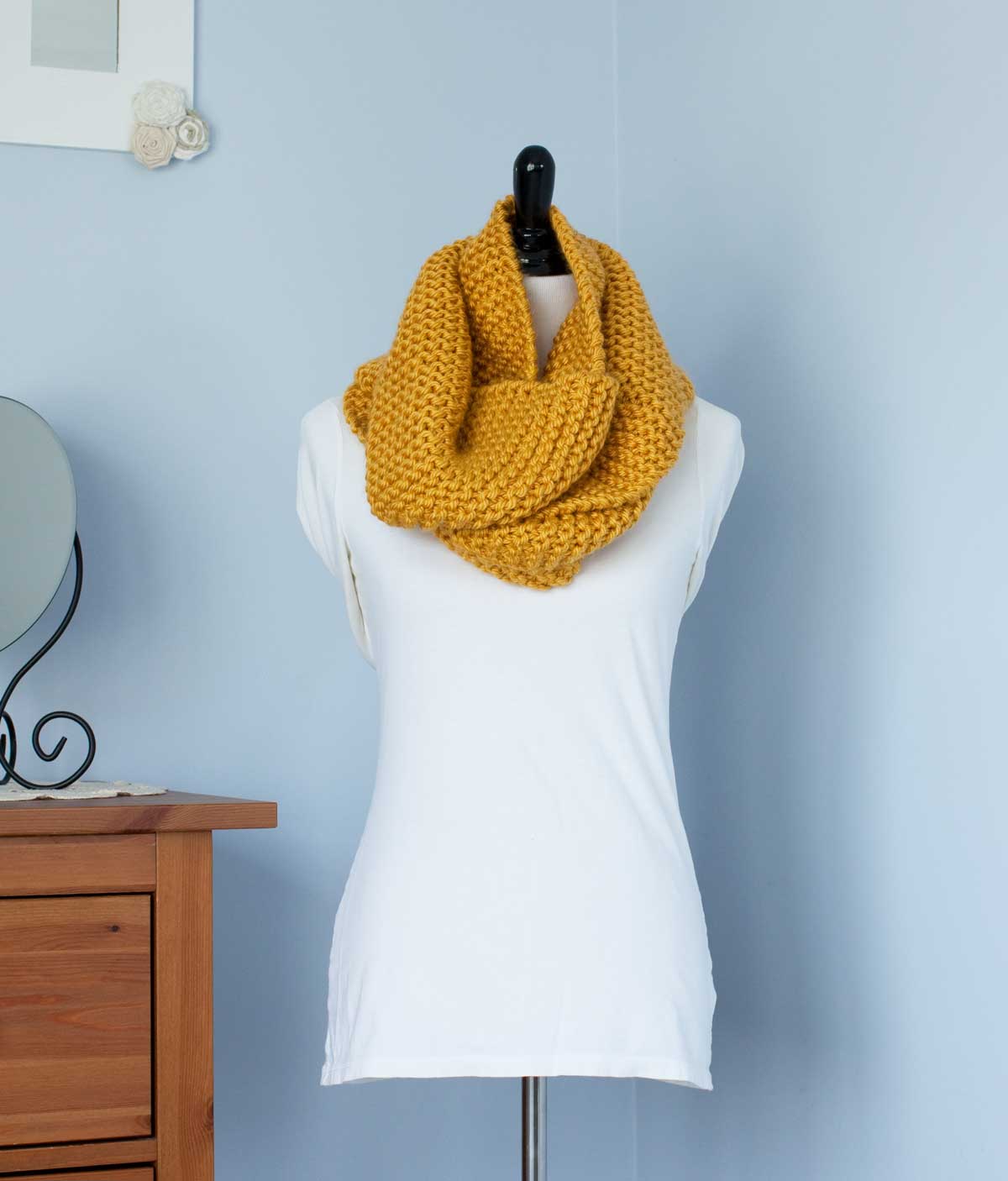 Wear it long, wrapped twice for a little added warmth, or three times on those extra chilly and windy days.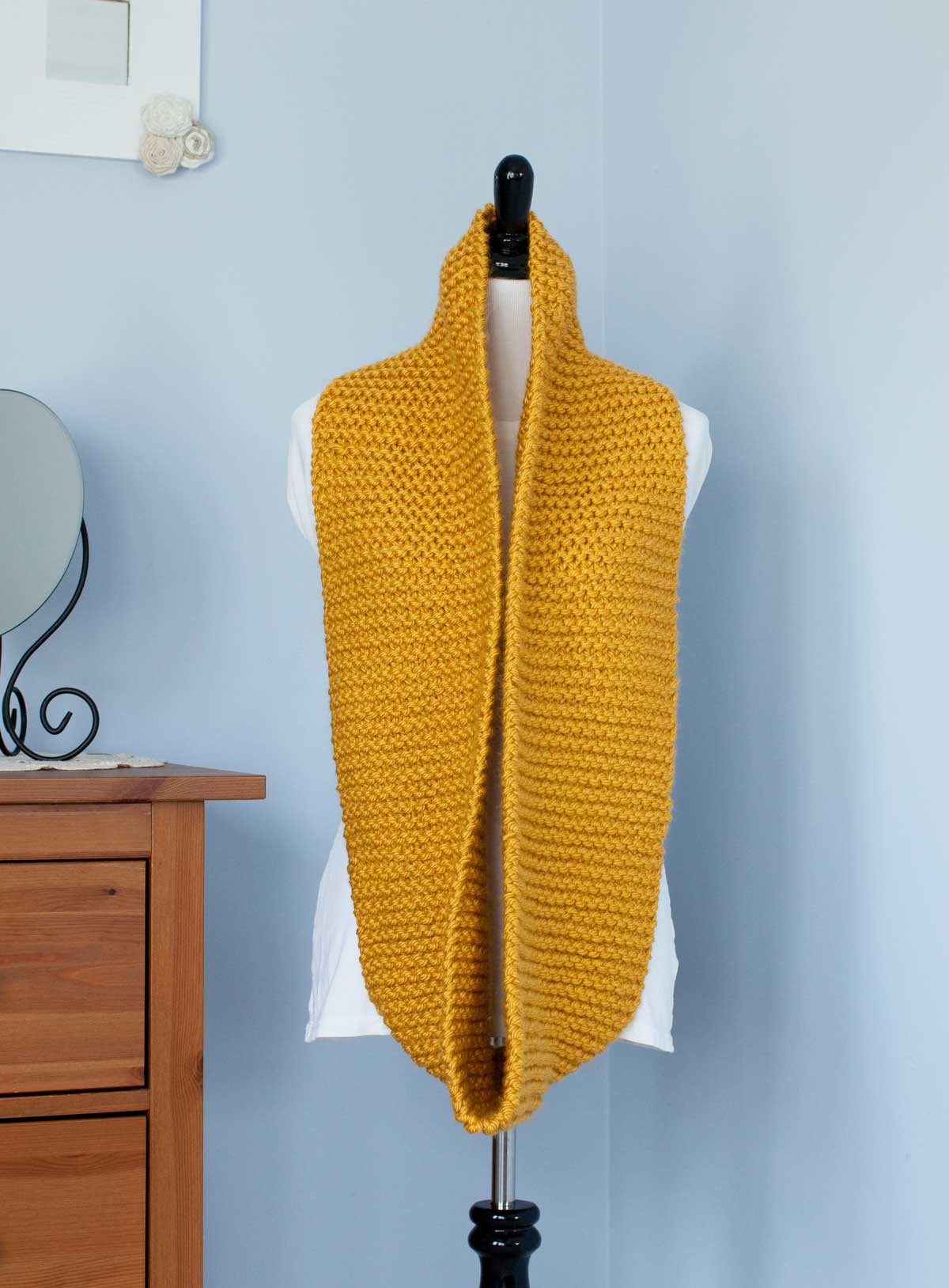 These knit up pretty quickly and would even make great holiday gifts! Let me know in the comments which color you would choose to knit.